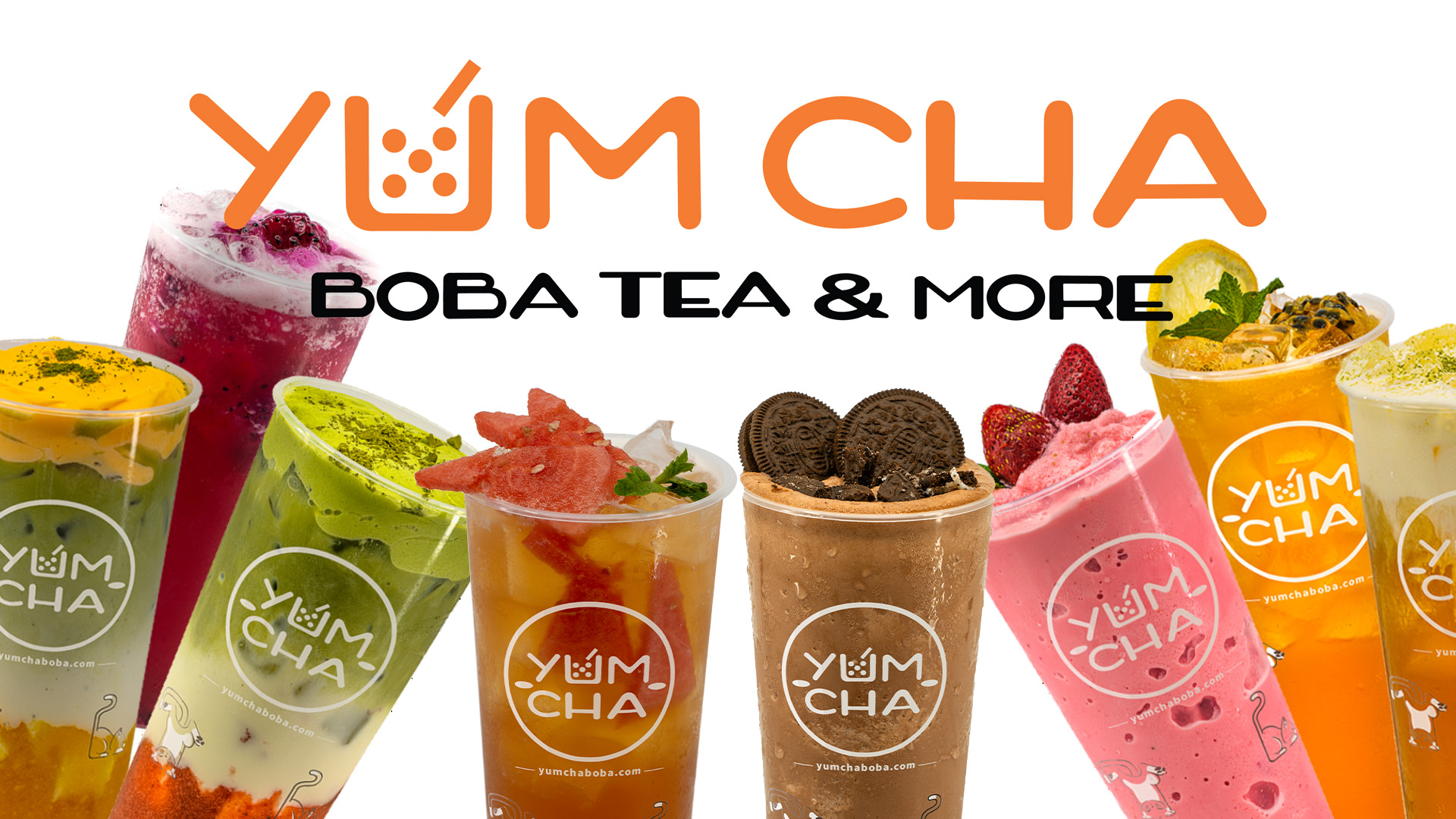 Build Your Purrfect Drink at Yum Cha Boba & More
At Yum Cha Boba Tea & More, a new café at the Shops at Country Club in Brentwood, "fresh" is on the menu. Husband and wife owners Minh Trinh and Sandra La say it doesn't matter whether you're craving a boba tea, a fruit smoothie, or a Vietnamese coffee. "We pride ourselves in only using the freshest ingredients," said Sandra. "Fruit teas and smoothies are made from real fresh fruits. Teas are brewed daily."
Yum Cha Boba Tea & More may be one of Brentwood's newest small businesses, but its owners are anything but amateurs at running restaurants; they also own Misaka Sushi Ramen Bar next door to Yum Cha and have launched a total of 10 restaurants over the years, with six in Brentwood and the greater Bay Area. "My husband has always had a passion for cooking, and I love all things food," Sandra said.
Opening a new café during a pandemic certainly was brave, but when a vacancy opened right next door to Misaka Sushi Ramen Bar in 2020, the couple decided to take advantage of the opportunity. However, due to the challenges the pandemic presented, the café didn't open until early 2022.
On the menu are favorites such as brown sugar boba latte, made with a topping of boba pearls, which are black chewy balls made from tapioca starch. Asian-inspired boba teas are all the rage—another term for boba is "bubble tea." "Since boba tea went mainstream in the early 2000s, I've made it a goal to visit as many different boba tea places from the Bay Area to SoCal, always documenting my favorite combination of fruits and teas," Sandra said. Boba tea is one of several customizable drinks at Yum Cha Boba Tea & More: choose your base tea—black, jasmine, oolong, qing, and rose are on the list. Then add a flavorful sweet cream (mmm … crème brûlée, tiramisu) and a delicious topping such as boba or a matcha or lychee jelly.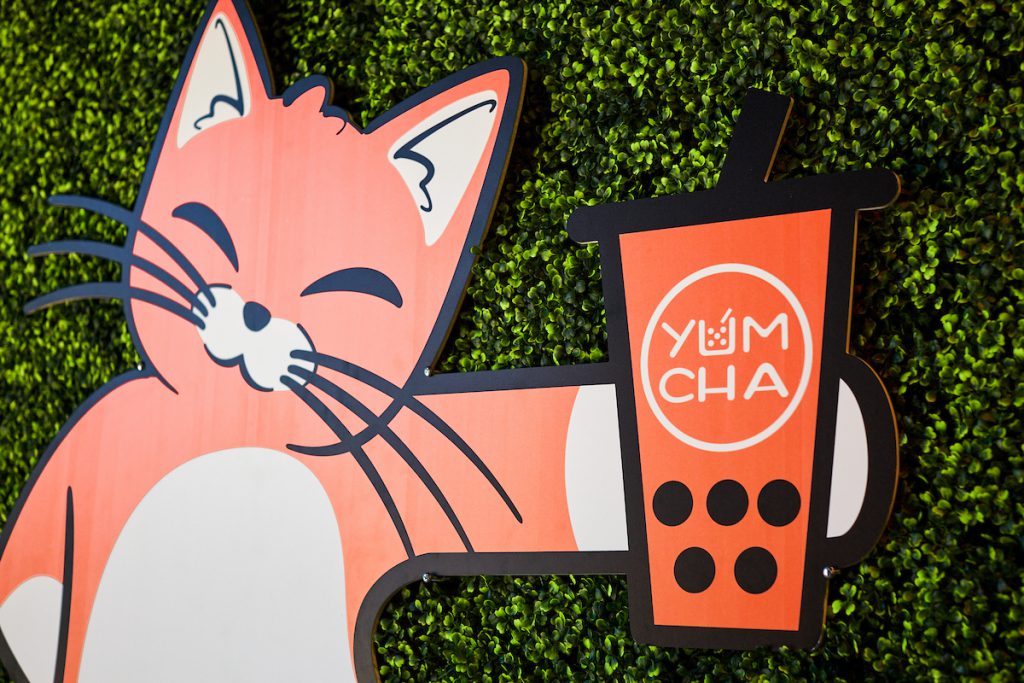 Other menu items include classic Vietnamese iced coffee, tropical fruit teas, and smoothies featuring fresh mangos, strawberries, honeydew melon and more. For pure-tea lovers, varieties such as white peach black tea and ginger green tea can be served hot or cold. "I'm part Chinese and traditionally, tea is enjoyed with almost every meal," Sandra said. "The Chinese enjoy tea for its health benefits. I enjoy Asian tea for the complex flavors that each tea has to offer." New drinks and toppings will be introduced monthly, and there are plans to add freshly made grab-and-go items to the menu. For the full menu visit yumchaboba.com, where you will also see the café's mascot: an adorable orange-and-white cat. The idea came from the Vietnamese zodiac; Sandra was born in the year of the cat.
The entrepreneurs also call Brentwood home. Minh and Sandra relocated there from San Francisco in 2006, choosing the small but growing city for its schools, family-friendliness, and opportunities. At that time, they opened their first restaurant in nearby Livermore. In 2009, "after a few years of juggling the commute, a family, and running a business," the couple opened Pho Vietnam in downtown Brentwood—serving the traditional Vietnamese staple pho (a dish made of broth, rice noodles, meat, bean sprouts, and fresh herbs). Their current restaurant, Misaka Sushi Ramen Bar, services authentic ramen (Japanese noodle soup) and a stir-fried menu that is Vietnamese and Chinese influenced. "Minh enjoys cooking for the family on all occasions. Whether it be for family parties, family dinners, or even camping trips, he takes the time to serve the best Asian meals," Sandra said.
Minh and Sandra say the best part about living in Brentwood is the tight-knit community that supports its local small businesses. "Residents are huge supporters of the small-business community and make every effort to patron and support small businesses," Sandra said. The couple looks forward to serving their Brentwood neighbors and out-of-town visitors in their newest venture. This Brentwood "pearl" offers an authentic, fresh, and healthy drink menu any afternoon or evening. They're open noon to 8 p.m. Sunday through Tuesday and noon to 8:30 p.m. Wednesday through Saturday. Try another favorite—the strawberry matcha latte. Just simply, Yum Cha!
Yum Cha's Local Favorites:
Yum Cha Boba Tea & More (https://yumchaboba.com) is located at Shops at Country Club, 380 W. Country Club Dr., Brentwood, CA 94513.
Photos by Ron Essex Photography